Mmmmm -- handspun alpaca (100% Australian-grown, processed, and dyed!) Spun up over the holidays by JotheCrafty. Gorgeous stuff. Jo advises she thinks it looks like fairy floss.
Alpaca is one of those fibres that I least enjoy painting -- it doesn't always give me the effect I want from my painting process. This batch came closest to how I envisioned it to look at the end, so that's really cool. Since this was the fibre for 2012 Dec, it seemed fitting to choose a colour from my list of Beach Box colourways.
If you like this type of colour, check out the
organic cotton lace
in Beach Box on the webshop: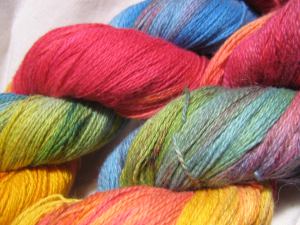 Happy New Year from Stranded In Oz. There are some really fun and inspiring yarns heading this way. I'm working on the plans for each line so that when it hits my door, I'll be ready to get going right away on the new lots.
Some of you who read the Ravelry postings on the SIOz group heard my news: the winding machine broke! Yup, the new one has been shipped, so fingers crossed this much-needed piece of equipment arrives safe and sound. Much swearing could be heard on our side of town when the previous one went CRACK!
Mel, in stinkin' hot Adelaide