Hello from SIOz Central, where I'm up to the neck in dyelots -- and the rainclouds roll in. Not to fear, as plan B is in progress.
The inevitable result of rain, dyelots, and normal orders is the feeling that I'm always behind on something. Situation normal.
I could pretend to be superhuman and have some magical backup stock of photos to share, but that would be complete fantasy. Nevertheless, the SIOz club packs went out as scheduled last week. And the highlight of that was the fibre that went out (well, it was a hard pick, as the socks put a smile on my face too).
I've admitted to a softspot for pin drafted fibre -- and the best of those are American Cormo and Rambouillet. So this month it was a special treat for the spinners -- the Pretty Good Green Rambo.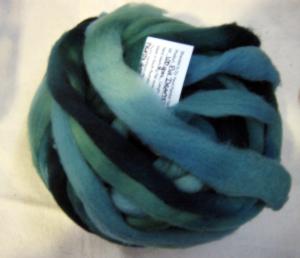 The Glinda Sock is the October Knitter's Project -- I've been alternating toe up and top down patterns -- as well as difficulty levels for the sock patterns throughout the year. This one is meant to be a good non-stress project after the tech-intensive Moggy Doggy for August.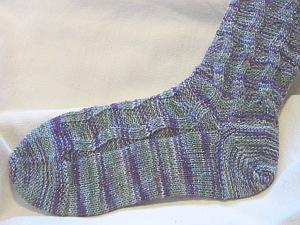 The stitch in the Glinda Sock is a variation of the Embossed Wave Stitch -- it's zazzy without a lot of effort. I've added some texture to the heel and toe to integrate with the stitch. I hope those of you who are clubbies enjoy making this sock as much as I do.
It's Monday -- which is errand day in this household. So it's off to do the boring maintenance errands that suck the life out of a day off.
Til next time, Mel